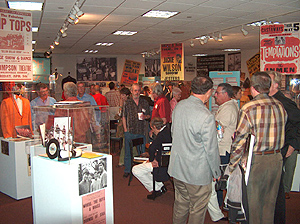 HBD Book Debut Party - Macon, GA
CLICK HERE TO SEE MORE PHOTOS!
---
ROAD SHOWS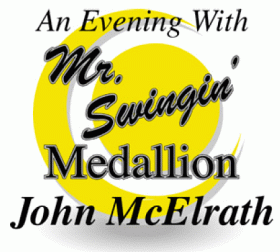 An Evening w/ John McElrath
Greenwood S.C. Civic Center
Friday, Sept, 12th, 2008
HERE'S SOME GREAT PHOTOS!
HERE'S A RECAP OF THE EVENING!
---
BOOK SIGNINGS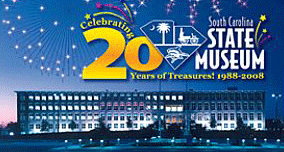 BEACH MUSIC Extravaganza!
S.C. State Museum - Columbia
Saturday, August 16th, 2008
HERE'S TWO PAGES OF PHOTOS!
---
50th Rock 'n' Roll Reunion
Imperial Theatre - Augusta, GA
Saturday, July 19th, 2008
HERE'S SOME GREAT PHOTOS!
---
Independence Day Celebration
Rose Hill Estate - Aiken, S.C.
Friday, July 4th, 2008
HERE'S PHOTOS OF THE FUN!
---
CBMA Membership Drive
Charlotte, North Carolina
Sunday, August 19th, 2007
HERE'S 2 PAGES OF PHOTOS!
---
The Jesters LIVE In Concert
Chateau Elan - Braselton, GA
Saturday, August 18th, 2007
HERE'S 2 PAGES OF PHOTOS!
---
Back To The Beach Fest '07
Fairview Beach, Virginia
Sunday, July 29th, 2007
THIS EVENT WAS RAIN-CANCELLED
HERE'S PHOTOS FROM THE WEEKEND
---
Swingin' Medallions Reunion
Greenwood Civic Center
Saturday, July 28th, 2007
HERE'S PHOTOS FROM THE WEEKEND
---
Lowton Civic Hall - Lowton, UK
Hesketh Meadow Lane (Near Wigan)
Friday, July 13th, 2007
WE HAVE 4 PAGES OF UK PHOTOS HERE!
---
Funky Feet Records - UK
4a Bedford St. - Rhyl, North Wales
Saturday, July 7th, 2007
WE HAVE 4 PAGES OF UK PHOTOS HERE!
---
Longfield Suite - Prestwich, UK
Friday, July 6th, 2007
WE HAVE 4 PAGES OF UK PHOTOS HERE!
---
Thomasville (GA) Rose Festival
Friday - April 27th, 2007
2 PAGES OF PHOTOS HERE!
---
The Handlebar - Greenville, SC
Saturday - March 24th, 2007
SEE WHAT YOU MISSED HERE!
---
Dothan Civic Center - Dothan, AL
Friday - February 23rd, 2007
CHECK OUT THE PHOTOS HERE!
---
Plan 9 Music - Richmond, VA
Sunday - February 10th, 2007
WE HAVE PHOTOS!.. CLICK HERE!
---
ROAD SHOWS
Jekyll Island Beach Music Festival
Jekyll Island, Georgia
Saturday, August 11th, 2007
HERE'S 4 FULL PAGES OF PHOTOS!
---
Richmond Beach Music Festival
Richmond (VA) Raceway Complex
Sunday, August 5th, 2007
HERE'S A PAGE FULL OF PHOTOS!
---
Memorial Day Weekend Festival
Plum Branch S.C. Yacht Club
Sunday - May 27th, 2007
GOT SOME PHOTOS FOR YA HERE!
---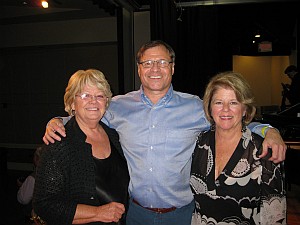 In-Men Ltd. (Elon, NC) Show - 2008
Here's HBD author, Greg Haynes, with the
First Ladies of Beach Music (from the Monzas)
Linda "Quig" Quinlan James and Sharon Hinshaw
Copeland. Additional photos will be available on
the Heeey Baby Days blog.... COMING SOON!!
---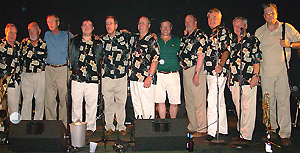 The Jesters (Athens, GA) - 2007
"Heeey Baby Days" Author, Greg Haynes (pictured
above) with The Jesters from Athens GA following
their performance at Chateau Elan in Braselton, GA
WE HAVE MORE PHOTOS HERE!
---
Burlington, NC (December 2006)
Read "The Burlington Report" Here!

The first official "Heeey Baby Days Of Beach Music Road Show" was held December 17th in Burlington, North Carolina. If you were there and have photos or thoughts you'd like to share online, contact us here.
We just received the photo below... What a night!!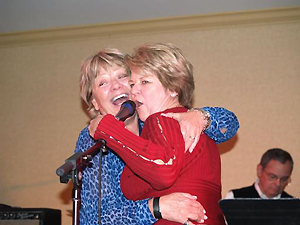 The First Ladies Of Beach Music
"Heeey Baby Days Of Beach Music" Road Show
L-R: Sharon Copeland & Linda "Quig" Quinlin James
Background: Sammy Fowler, also of The Monzas
HERE'S MORE ROAD SHOW PHOTOS!
---
About The Book
The Heeey Baby Days Of Beach Music book was "officially" released October 6, 2006 at the Georgia Music Hall of Fame & Museum in Macon. LOOK WHO WAS THERE! (Were you at the "Party After The Party??)
NOW APPEARING
AT THE BEACH CLUB!
We have in excess of 200 significant contributors to the book so there are potentially that many outlets from which to buy the book. This includes numerous retail stores in the Southeast.
Our intent is to share any successes that the book might achieve with those who have made the book possible and or their designated charities or causes. We have already pledged to use book proceeds to benefit NAMI (National Alliance on Mental Illness), The University of Georgia Music Business Degree Program, the Georgia Music Hall of Fame and Museum in Macon and others to be named.
We'll keep you posted on how well we do in that department as well. We also expect to have a good time and hear some great music in the months ahead. Incidentally, if you buy a book from one of the bands of The Heeey Baby Days of Beach Music at a live event, you might be able to get the performers to sign the photo of them in the book which was shot 40 so years ago.

As the book is sold or otherwise committed, we will periodically post the percentage of books sold. Hopefully, when we get to 90% sell through, we will reorder an additional printing which will be available eight weeks later.

More Book Details:

The book retails for $59.95.

The book has 552 tabloid size pages and includes an Index and approximately 800 images. It weighs 10 pounds. (An actual image of the book w/ dust jacket is posted on the right-hand column of this page.)

Three CDs are included with the book are housed in a specially designed art card affixed to the inside back cover. The CD booklet is also included. (See the tracks and artists on the two music CD's included with the book here!)

Payment for a first printing of The Heeey Baby Days Of Beach Music may be done by check, Visa or Master Card. (Click here for international shipping rates.)
DOWNLOAD THE PROMOTIONAL FLYER
---
Early Reviews
Below are e-mailed comments from musicians
who've reviewed early drafts of the book...
Well, congratulations. It looks like it's finally going to happen. I know that it's been a labor of love for you, and that you may never make a cent for all of the time you spent on your project. Now you know what it feels like to be a musician. Nevertheless, I'm sure that you feel a sense of accomplishment, and you have a lot to be proud of. I sent some photos to the Georgia Music Hall of Fame, hopefully they'll see fit to use some of them. If all goes well, I'd like to go the Hall for the kick-off on October 6. My best to Nora and I hope I'll see you then. --- Rodney Justo - The Candymen, Atlanta Rhythm Section

I have just seen the finished product, entitled, "The Heeey Baby Days Of Beach Music!". It is without a doubt the greatest tribute to the Beach Music Culture that has ever been done. For those of you who do not know, this book has been 5 years in the making. It covers the Pioneers of Beach Music from the 1960's Carolina Beach Bands. If you were a beach music musician from the 60's, you are more than likely in the book as they really did their homework producing this novel. If you were a Beach Music Fan who grew up with this music in your blood, then this is something you would be proud to have in your library. I know I am!! It's like the high school annual we never had. There will be a 14 CD collection being distributed World Wide to go along with it. My hats off to Greg Haynes and Marion Carter for this massive production which tells the Real Story of Beach Music. If you love Beach Music & grew up with it, this book is for you! --- J.D. Cash, Bob Kuban & The In-Men, St. Louis Missouri
(Transcript of voice mail left after receiving an advance copy of book): Wow Wow Wow Wow Wow! I am so impressed; I'm astounded. I knew you were special but this is like beyond belief. My hat's off to you, you incredible person. --- Ed Baker, Publisher, Atlanta Business Chronicle
I got the excerpt from your great book last night. It looks like it's going to be fantastic. That Big Bam poster really brings back memories. I lived in Montgomery as a kid and those shows were at the coliseum at least twice a year. Just imagine seeing all that talent for $2.50. We didn't know how good we had it back then. --- Eddie Burton - The In, Huntsville, Alabama
I read the book and it's great! You've really done your homework and I bet that Lewis Grizzard would have written about it non-stop! Don't be surprised if appreciation of your efforts doesn't show up in some pretty interesting places. --- Cyril Vetter - Greek Fountains, Baton Rouge, Louisiana [Cyril was co-writer of "Double Shot Of My Baby's Love"]
That is nothing short of amazing! I can't wait to tell a couple of friends who are huge RS (Rolling Stones) fans! Good writing, too, by the way! Just finished reading the second thing! (The Jesters) What a hoot. This is going to be a neat book! --- Marvin Taylor - K-Otics, Tallasee, Alabama
The KING and his court can't believe the great things you are saying about our band and again we feel honored that we have received this place in the book. To end this chapter with our hero Bill Deal starting it out makes our hearts heavy with pride remembering Bill's passing at such a ripe age. He would have contributed so much more to the history of beach music had the Lord not called him home. I guess God likes beach music too and wanted a private audience. --- King Edward & The BD's, Mechanicsville, Virginia
While I'm thinking about it let me say that I and everyone who played in bands during the HBDays owes you a huge debt of gratitude for all your effort, blood, sweat, tears, etc. in compiling this historical document. You are right in that it would be a shame for that era to fade into oblivion with nothing to document it. Can't you just picture it being the year 2050 and someone stumbles across a time capsule containing copies of the movie "Animal House" along with your book? WHAT A CLASSIC COMBINATION! --- Jim Ring, The Rotations, Waynesboro, Virginia
---
* WE NEED YOUR INPUT! *
We're compiling a list of places in the South where
The Heeey Baby Days Of Beach Music bands played during the years of 1962-1969.

Check out the list here and let us know of any venues or clubs you think we need to add. If you've got one, click here to drop us a note with your suggestion.
---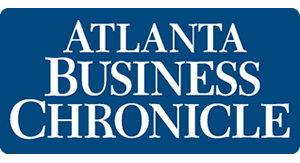 Great "Heeey Baby Days" Article!
---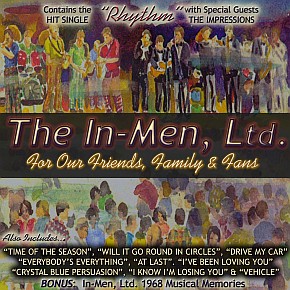 LOOK!!. New CD from The In-Men Ltd.
CLICK HERE FOR A "REALPLAYER" SOUND SAMPLE
---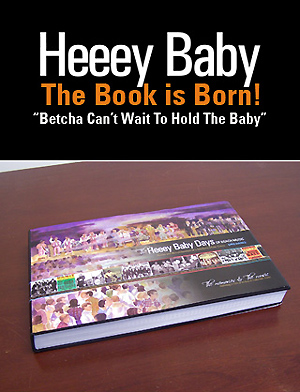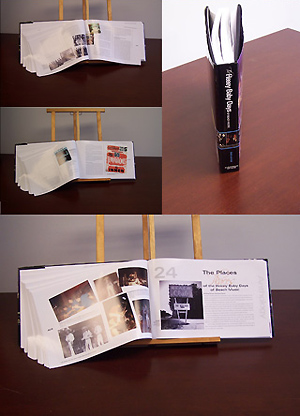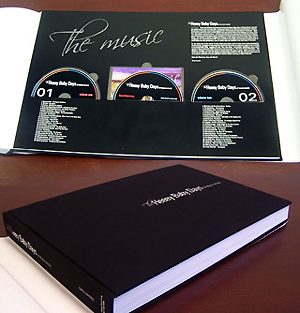 ---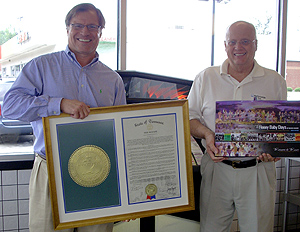 "Heeey Baby Days" Proclamation
Author receives the "official" proclamation from
Sleepless Knights drummer, Larry Cole
GET THE COMPLETE STORY HERE!
---

"Heeey Baby Days" Podcast
---
Book Excerpt
At the colleges, it was the days when Humdinger Cups were filled with three parts PBR and one part MD 20-20 at the Saturday night fraternity party. Pace was required if Rebel Yell and COKE provided additional company at a Saturday afternoon gridiron affair between the Hedges, in the Valley, or down in the swamp. In the Deep South, and probably everywhere, one or both weekend nights had some sort of garage band providing the music for the socialization of our time. Most every town or crossroads in the 60's featured a local aspiring five-piece band playing the music of everyone from the Rolling Stones to the Temptations, in no particular order. How many times did you hear 'Satisfaction" at a National Guard Armory? How many different bands did you hear perform that classic by the Rolling Stones? But were you really there to hear the Rolling Stones perform it live at a fraternity party at Georgia Southern College in1965? My cousin Porky and his college roommate, Jimmy Hilliard, decided that their fraternity, Sigma Epsilon Chi (SEX) should throw a big hoorah. (See Cousin Porky and the Rolling Stones.) To the halls and pavilions of small towns and beaches throughout the South came the singers and the bands and revues that numbered from two to twenty-two. These were the heydays when even the most local of bands found an audience and fast dancin' ruled. "The Heeey Baby Days of Beach Music" were unique especially for the dances (earlier called sock hops) that would occur virtually weekend night. When "The Heeey Baby Days of Beach Music" ended on the last day of the 60's, so did a musical era. Those were the days when many more bands were playing and they had gigs every Friday and Saturday night and sometimes two performances on a Saturday with a jam session. Those were "The Heeey Baby Days of Beach Music".

---
Book Quotes
"When you step back and look at the Big Picture of how long our species has been recording sound on this planet, it's quite amazing...for a brief period this was PURE music made by people with real instruments....and then came all of the electronics and drum machines and other crap."--- John Wyker - Rubber Band (Tuscaloosa, Alabama)
"We went from "Stand By Me" to hard rock and heavy metal and songs that captured the desperation of the times, such as King Crimson's 'confusion will be my epitaph, as I crawl this cracked and lonely path'. Our band was never the same. Like many great rhythm and blues bands, our collective soul drifted away with the changing times." --- Ben Barnard (lead singer) - Oxford Nights
"When the hair got long, the fun got short." --- Jerry Clapp - The In-Men Ltd.
---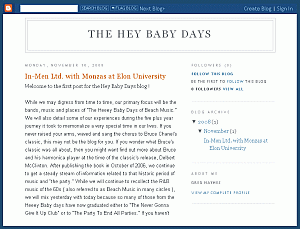 The NEW "Hey Baby Days" Blog
CLICK HERE TO JOIN THE FUN!
---
Book Comments
Click on the link below to read comments from individuals who have purchased the book...
Comments From Book Owners (2008)
FOURTH QUARTER
Comments From Book Owners (2008)
THIRD QUARTER
Comments From Book Owners (2008)
SECOND QUARTER
Comments From Book Owners (2008)
FIRST QUARTER
Comments From Book Owners (2007)
FOURTH QUARTER
Comments From Book Owners (2007)
THIRD QUARTER
Comments From Book Owners (2007)
SECOND QUARTER
Comments From Book Owners (2007)
FIRST QUARTER
Comments From Book Owners (2006)
---
In The News
Below are print articles and reviews about
"The Heeey Baby Days Of Beach Music"...
"Teamster Magazine" - September 2005
"The Tuscaloosa News" - September 24, 2006
"Waycross Journal-Herald" - October 3, 2006
"Jesup Press-Sentinel" - October 4, 2006
"The Planet Weekly" - October 12, 2006
"The State" (Columbia) - October 19, 2006
"The Item" (Sumter) - October 29, 2006
"The Albany Herald" - November 2, 2006
"WALB-TV" (Albany) - November 2, 2006
"Sun News" (Myrtle Beach) - Nov. 12, 2006
UGA Alumni Newsletter - November 2006
SEE "AUTHOR SPOTLIGHT" ON THE LEFT SIDE
"Georgetown Times" - November 16, 2006
"Georgia Trend" Magazine - December 2006
"Camden Chronicle-Independent" - Dec. 27, 2006
"Atlantan Magazine" - January/February 2007
"In The Basement" (UK) - January-April 2007
"Vintage Magazine" (GA) - March 2007
"Stomp And Stammer" - March 2007
"Thomasville Times" - April 22, 2007
"Index-Journal" (Greenwood) - May 27, 2007
"Ugly Things" (La Mesa, CA) - Summer 2007
"Swampland.com" Website - Summer 2007
"Sun News" (Myrtle Beach) - June 3, 2007
"Atlanta Intown Buckhead" - July 2007
"Golden Isles Magazine" - July-August 2007
"Richmond Times-Dispatch" - July 29, 2007
"Charlotte Observer" - August 14, 2007
"In Dangerous Rhythm" - September 1, 2007
"Metro Spirit" (Augusta) - November 21, 2007
"Index-Journal" (Greenwood) - December 16, 2007
"Georgia Bar Journal" - February 2008
"Augusta Chronicle" - July 3, 2008
"Aiken Standard" - July 5, 2008
"Atlanta Business Chronicle" - October 3, 2008

---
DOWNLOAD A SAMPLE CHAPTER
[ You Will Need Adobe Reader...It's FREE! ]
---
NEW Excerpt: "The Struggles Of Jimbo Doares"

---
Heeey Baby Days CD's
46 Rare & Collectible Tracks!
[ These 2 CD's Come With The Book ]
---
****BONUS MATERIAL****
The stories from "The Heeey Baby Days Of Beach Music" continue to come in (after we've reached the deadline for inclusion in the first edition of the book). These stories are just too good to keep under wraps so we've decided to share them with you. ENJOY!
---


MOST COVERED SONGS
What is the MOST COVERED song from the
Heeey Baby Days? We've started a list here.
Click here to give us your additions/feedback.
---
THE MOST SOUL?
Which bands from "The Heeey Baby Days Of
Beach Music" did we leave off this list?
THE RULES (Just 2):
1. Band must have originated in the 60's
2. Must have a derivation of "Soul" in their name
Virginia leads right now with 8 bands, the Carolinas
(North & South) are tied with 6 bands. Georgia
is in fourth place with 4 bands. There must be
at least a hundred more "soul"ful bands! Also,
please help us identify the states we marked as ((UNK) unknown. We'll update this list every
few days so give us your feedback/input here!
---
The Play

We have been deliberating about the musical based on the book. In addition to doing a wonderful job crafting a play from the book, Nora Marion did a great amount of research on various dances that were occurring around the South during "The Heeey Baby Days Of Beach Music". If we are able to get the play off the ground, it would be important to regionalize it so that the music and dance used would be germane to the performance location. While the shag may prevail in Carolina, it's very possible that the bop would be employed for performances in Alabama and Florida.
We have a vast number of songs that will be utilized and it would depend on the location. We would hope to use members of "The Never Gonna Give It Up Club" for the music. We will be publishing a few excerpts from the play. We'll start by introducing the characters and give you a small snippet of the first of the play. Depending on the response we get, we will continue to roll more segments over the next few weeks. In the mean time, we will be talking to various production companies about the play. Please give us your feedback here.
Heeey Baby Days (The Play) - Act 1