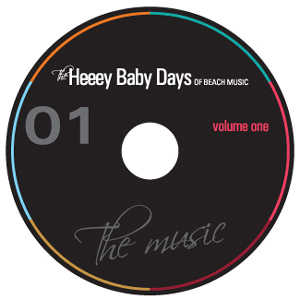 The Heeey Baby Days Of Beach Music

1. Hey Hey Baby - The Swingin' Medallions
2. Timeless - Ron Moody
3. Charlena - Cliff Ellis (The Villagers)
4. Does Your Mama Know About Me - King David
& The Slaves
5. Double Shot Of My Baby's Love - The Swingin
Medallions
6. Dancin' To The Beat - Mouse & The Boys
7. Be Young Be Foolish Be Happy - The
Sensational Epics
8. See Saw - The Candymen
9. Twenty-Four Hours Of Loneliness - Wilbur
Walter & The James Gang
10. I Dig You Baby - The Jesters
11. Lonely Drifter - Pieces Of Eight
12. Cry Like A Baby - The Box Tops
13. I'm Gonna Miss You - The In-Men Ltd.
14. Gir Watcher - The O'Kaysions
15. Let love Come Between Us - The Rubber Band
16. Ain't Nothing You Can Do - Mark V (w/ Dan
Penn)
17. Ya Ya - The Del-Rays
18. Ain't Too Proud To Beg - The Viscounts
19. Whose Little Girl Are You - The Tip Tops
20. I Got The Fever - The Prophets (Georgia
Prophets)
21. Mistaken Identity - O'Banion & The Features
22. I'm Such A Lonely One - Oxford Nights
23. Still A Lot Of Love - The Duprees (Second
Nature)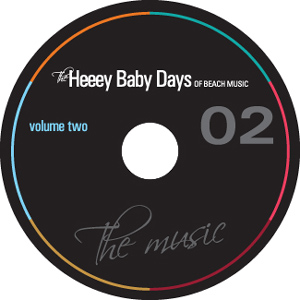 The Heeey Baby Days Of Beach Music

1. What Goes Up Must Come Down - Soul Inc.
2. The Entertainer - The Footnotes
3. The Monkey Time - The Mystics
4. Along The Way - Singing Swinging Counts
5. You Haven't The Right - The Catalinas
6. Watch Out Girl - The Embers
7. Inventory On Heartaches - Bob Collins & The
Fabulous Five
8. Instant Love - The Monzas
9. More Today Than Yesterday - The Avengers
(Band Of Oz)
10. Together - The Men Of Distinction
11. No More Doggin' - Buddy Skipper & The Jetty
Jumpers
12. Forget Him - Johnny Cobb & The Attractions
13. Love Have Mercy - The Tempests
14. Hey You Little Girl - The Tropics
15. My Girl Stormy - Bob Meyer & The Rivieras
16. Share My Name - The Spontanes
17. Ain't No Big Thing - Calvin Lindsay & The
Hysterics
18. The Biggest Mistake - Nobody's Perfect
(Fantastic Shakers)
19. I've Been Hurt - Bill Deal & The Rhondels
20. I Need You - Gene Barbour & The Cavaliers
21. 39-21-46 - Willie Tee Walker & The
Magnificents
22. Will You Ever Learn - The Soul Set
23. I Love That Girl - The Impacts
These CD's Come With The Book!
The book comes with the two CDs (listed above). These are the first two of what has become a 17 volume CD series called "The Heeey Baby Days Of Beach Music". This companion series (produced by Ripete Records) adds an additional 300 cuts creating an incredible total collection of 346 great cuts from a truly remarkable era. Most of these recordings were made by bands and vocalists featured or mentioned in the book. The collection is rare and eclectic, and is one that will both fascinate and please lovers of the music.
CHECK OUT THE TRACKS (AND ARTISTS) ON VOLUMES 3 THROUGH 17 HERE!
For Beach Music, it will further define its unique position in R&B music circles. Our hats go off to Marion and Karen Carter at Ripete Records for making it happen. Kudos for Julian Fowler who continues to be an MVP. Thanks to all record executives, bands and musicians whose spirit of cooperation allowed it to happen.